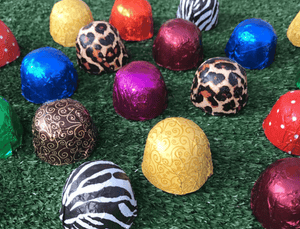 We have the perfect gift or add-on to your party, wedding or corporate event. Handmade artisan chocolates which can be customized to suit your styling requirements. 
Our hand made Chocolates are made by our artisan chocolatiers using the finest ingredients and are created with the finest fruits, nuts, liqueurs, and spices.
Choose from Passionfruit Mousse, Baileys, Mint, Raspberry, Caramel, Coconut, Cherry, Orange and Almonds, Nutella and hazelnut - there's something there to suit everyone!
They are made with fresh ingredients and contain no artificial preservatives or colouring. Some of our chocolates contain alcohol and might contain traces of gluten. The chocolates are better eaten within ten days after purchase. They can last up to four weeks if kept in the fridge.

You can choose your flavour and the wrapping colour and style, or let us mix and match it for you. We can help you with special occasions by making custom order chocolates. As these are individually made to order, please allow up to a five-day turnaround. 
You are able to choose any flavour and any wrapping colour that suits your event or business, such as :
Christmas
Easter
Hens parties

Weddings
Christenings
Corporate events
Minimum 10 chocolates per order.
Please contact us directly for a quote for a different quantity or for a specific order. 
Leave your colour and flavour preferences in the comments at checkout